Sharon Katz was born in Port Elizabeth, now known as Nelson Mandela Bay, South Africa. As a young teenager during the terrible apartheid era, she used to sneak out to the "Blacks Only" townships by hiding under blankets in the back seat of her friend's car. There, she met with the now-famous actors in Athol Fugard's group, John Kani and Winston Ntshona, and began her lifelong mission of using music to help break down the country's artificially-imposed racial barriers.
Back in 1992, Sharon made history in her home country of South Africa when she formed the country's first-ever, 500-member multi-cultural and multi-lingual performing group and staged the production called "When Voices Meet."
Then in 1993, Sharon rocked the nation with her concert tour, "The Peace Train." The first performance had been so successful and so widely publicized that invitations began pouring in from all over the country. To respond to all the requests, Sharon got sponsors to hire a train – The Peace Train – and took 150 of the performers, her friends Ladysmith Black Mambazo, as well as TV and radio crews on tour throughout the country. At each stop along the route, they performed their concert and encouraged people of all races, cultures, ages and political affiliations to put down their guns and hostilities and to prepare for the country's transition to a peaceful democracy. The performing group became known as "The Peace Train" forever more, and all the world watched as Nelson Mandela became South Africa's first democratically elected President a few months later.
"When Voices Meet" is the award-winning documentary about Sharon Katz & The Peace Train. You can see the trailer at https://sharonkatz.com/when-voices-meet/
The first time world-wide audiences saw Sharon perform was on CNN in April 1994. By then, a date had been set for South Africa's first-ever democratic election. Sharon was commissioned by the Independent Electoral Commission to write songs in many of South Africa's languages to teach people how to vote for the first time in their lives. CNN caught Sharon jumping down from a helicopter to perform the songs in a remote area of KwaZulu-Natal because Chief Buthelezi had just agreed to let his people vote and there was an urgent need to inform people quickly.
The CNN piece brought international attention, and the invitations to perform in the US and elsewhere started pouring in. The Peace Train was about to become The Peace Plane!
As South Africa's "Cultural Ambassadors," Sharon Katz & The Peace Train took flight in 1995 to spread their music and message to the US. With sponsorship from the government and private sector in both South Africa and America, Sharon responded to the US invitations by taking her 45-member performing group on a 5-week, 8-city US tour. 100,000 fans screamed for more at the New Orleans Jazz & Heritage Festival, just one of their stops. They were an instant hit, selling out all their CD's at the first concert.
From Disney World's International Festival to the New Orleans Jazz Fest, from Harlem to Hampton, Memphis and Cincinnati, and from Philadelphia's Penn's Landing to Washington, DC's Duke Ellington School of Performing Arts, Sharon Katz & The Peace Train thrilled audiences of all ages with the unstoppable beat and amazing harmonies of South African music and dance.
Sting and Trudie Styler heard about them from one of Paul Simon's producers, and soon Sharon Katz & The Peace Train were whisked into the studio to record for an album that included Sting, Paul Simon, Tina Turner, Elton John and Madonna. Sharon Katz & The Peace Train had just returned from a performance at the National Theatre of Ghana — part of their "Cape to Cairo Peace Train Tour" — when the phone rang from London. Marc Silag, a production supervisor for Paul Simon, was working on a recording project for Sting and Trudie and they wanted Sharon Katz & The Peace Train in the recording studio in 3 days. Without even time to unpack from Ghana, the group was whisked into the studio for a recording and video session. The resulting album is called "Carnival" and Sharon Katz & The Peace Train had really hit the big time! Nelson Mandela's "Cultural Ambassadors" began touring the world, treating Presidents, Kings and millions of fans on 3 continents to the unstoppable beat of their music. Back home in South Africa, Sharon was using her music therapy techniques to help heal the nation from the wounds of apartheid. She's also been working in other trouble spots around the world, earning her a reputation for converting "gang members into band members." With violence, intolerance and problems in schools becoming a daily concern in America too, Sharon has established a base in the U.S. She's doing workshops and concerts in schools, universities and community centers across the country. She's also forming Peace Train projects in many cities.
In another landmark event, Sharon composed and directed "Crossing Rhythms," a music and dance extravaganza that featured over 200 performers from across the African continent and had South Africa's Philharmonic Orchestra playing African music for the first time in its history.
Sharon earned a Grammy nomination for her "Imbizo" CD and has several CDs to her credit as well as DVDs that featuring the legendary Pete Seeger in concert with her and the band.  Sharon also toured the US with Abigail Kubeka of Miriam Makeba's Skylarks and recorded an album with her entitled "Double Take."
With a recording and performing career firmly established, Sharon turned her attention back to her humanitarian work and social development projects in South Africa. With proceeds from CD sales and contributions to her non-profit organization, Friends of The Peace Train, Sharon has established music therapy programs for orphans and communities affected by HIV/AIDS; feeding programs in impoverished areas; conflict resolution work in violence-torn regions; and building schools and community arts centers.  She also conducts workshops in schools and universities across America.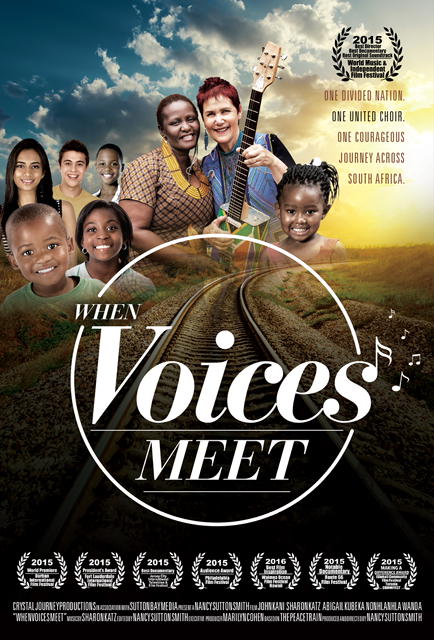 In 2013, we celebrated the 20th anniversary of The Peace Train's original ride through South Africa to help Nelson Mandela break down the barriers that apartheid had created and to usher in the country's first democratic election. To mark the occasion, the documentary "When Voices Meet" was released and premiered at the Durban International Film Festival in South Africa with simultaneous broadcasts throughout the continent of Africa.  "When Voices Meet" has been selected by over 25 film festivals around the world and has won numerous awards including Best Documentary, Best Original Soundtrack, Best Director, Audience Award and President's Award. Screenings of "When Voices Meet" prompted requests for The Peace Train to develop projects in other parts of the world.
Since 2015, our efforts have focused on bringing together diverse groups and tackling important social justice issues in the USA and Latin America. Under the banner of "Transcending Barriers," we have worked with local partners to develop initiatives between urban and rural communities; across racial, economic and religious divides; and with established communities and new immigrants.
In 2018, with the support of the San Diego Foundation, we began a Transcending Barriers project in the border region between the USA and Mexico. Working with Promotora de las Bellas Artes in Tijuana, we have devised ongoing bi-national workshops, border crossings and concerts that focus on building greater understanding, respect and friendships. Replicating The Peace Train concept, youth and adults from both sides of the border spend time living, learning, traveling and performing together.
On Indigenous Peoples Weekend, October 9-11, 2020, hundreds of people from the across the USA will convene in San Diego, peacefully cross the border into Tijuana, meet their Mexican counterparts, and all board The Peace Train to travel to Tecate and participate in concerts, workshops and shared living experiences.