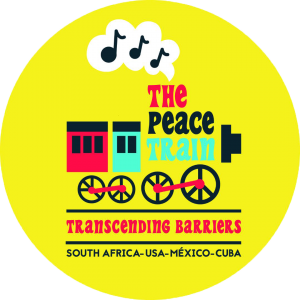 The Peace Train Steams into Communities Around the World

Each year, The Peace Train works with community partners to develop projects that address local issues of diversity, equity, inclusion and peacemaking.
In 2023 and 2024, we are working in the border region between Mexico and the USA; in Todos Santos, Baja California Sur, Mexico; and in South Africa.
From 2020 to 2022, we focused on the Tijuana region of Mexico where drug cartels and gang activity were severely hampering the constructive opportunities available to youth.  To showcase the success of the project, we brought  San Diegans and visitors from 15 other US cities to join 100 youth in Tijuana. Together, they rode The Peace Train along the border to Tecate for a full day of workshops and rehearsals in preparation for the Transcending Barriers Concert at the Tecate State Center for the Arts (CEART)  and at Fundacion La Puerta's Dia De Muertos Festival in Professor Parque, Tecate. 
The concert in Tecate featured the 8-piece band that Sharon formed while doing her social justice work in the binational region since 2018 in partnership with Tijuana-based Promotora de las Bellas Artes. The band includes Abraham Morales on bass, Ramon Cortes on drums, Esteban Rodriguez on keyboards, Alberto Corrales on flute, Hector Octarula on trombone, Joel Haros on trumpet, Ismael Haro on saxophone, and Sharon on guitar and lead vocals.
At CEART, Sharon Katz & The Peace Train band were joined by 150 young singers and guitarists with whom Sharon has been collaborating throughout the binational region including from San Diego and Campos in California; Rosarito, San Quntin, and Tecate in Mexico; and Promotora de las Bellas Artes' Select Choir from communities across Tijuana.  
The multicultural concert  began with an opening ceremony in the Kumiai tradition followed by a number of Spanish-language favorites; a positive rap composed with the well-known rapper Danger; songs in the Kumiai and Mixteco languages; several original songs composed by Sharon and her arrangements of popular South African songs; and ended with a whole-community participatory dance-off to Jerusalema.
BACKGROUND
Ever since the August 2015 release of When Voices Meet, the award-winning film about The Peace Train, we've received impassioned requests from throughout the USA and around the world. The film has inspired people to re-examine the issues currently dividing people, and to do something constructive about improving human relations and social justice.
In response to all the requests, we have been organizing projects, workshops and concerts in many communities across the USA, in the border region between the USA and Mexico, in Cuba, South Africa and elsewhere worldwide.  We hope you'll join us or attend an event when The Peace Train arrives in your community on the next leg of this historic movement.
*********************************************************************
In the Border Region between the USA and Mexico since 2016
Since 2016, we've been joining with local partners to develop musical projects that focus on Transcending Barriers by building mutual understanding, respect and friendships. In 2018, we established a partnership with Promotora de las Bellas Artes (PBA) in Tijuana, Mexico. Together with PBA, we have conducted yearly programs on both sides of the border with schools, community groups, homes for girls who have been rescued from trafficking rings and migrants.
**********************************************************************************
Transcending Barriers to Cuba – 2019
We took 100 singers from the USA, South Africa and Mexico to perform at the International Festival of Choirs in Santiago de Cuba. In Cuba, Sharon trained a 100-voice children's choir plus an orchestra, band and dance group. We all combined for a grand performance at the festival on November 1st.
**********************************************************************************
The Peace Train's Transcending Barriers Project Across the Border – 2018
After months of rehearsals and preparations on both sides of the USA/Mexico border, The Peace Train led the way for promoting understanding, respect and friendship with a binational Transcending Barriers project in July. People of all ages boarded The Peace Train San Diego Trolley for a ride to the border at San Ysidro and then marched across the border where we were met by hundreds of young singers and their families from our partner organization, Promotora de las Bellas Artes. Together, we paraded through the streets of Tijuana, Mexico to CECUT, the gorgeous Cultural Center of Tijuana. After some friendship-building workshops and a rehearsal, the combined group performed at CECUT as TV cameras and reporters covered the event for both sides of the border.
**********************************************************************************
The Peace Train project in Northern California – 2017
Over 100 youth and musicians from all diverse backgrounds sang and paraded through the East Bay area of California in May 2017. This project of The Peace Train focused on the hopes and rights of all children, especially those from Latina, African American, migrant and immigrant families. Students, teachers and families from Sacramento, San Pablo, Oakland and Berkeley traveled on the BART for this project and gave concerts at schools, train stations and public parks to make their voices heard.  The singers and musicians of La Pena Community Chorus joined The Peace Train's band for this special event.
**********************************************************************************
The Peace Train Across America – 2016
The 2016 tour featured a diverse group of 140 youth & adult singers from all across America, backed up by the Grammy-nominated band of Sharon Katz & The Peace Train. Additional singers of all ages joined the performances when The Peace Train arrived in each city.
Along its journey, The Peace Train picked up performers from coast-to-coast as well as out to Hawai'i in the Pacific Ocean and Puerto Rico in the Atlantic Ocean. Special guest Nonhlanhla Wanda, who co-founded The Peace Train in South Africa with Sharon Katz, also joined for the US tour.
The East Coast leg of The Peace Train's journey included stops in New York City, Liberty State Park, Jersey City, Trenton, World Cafe Live in Philadelphia, Baltimore and Washington, DC with a culminating performance at the Washington Monument on July 17 followed by a celebration of our mentor, Nelson Mandela, at the South African Embassy in DC.
**********************************************************************************
We hope you'll consider "getting onboard" for next legs of the tour!
For more info or to help with future projects, please contact us: 
LIVE on TV: The Peace Train Tour had one message: Peace and Unity. Sharon Katz and Wendy Quick joined NBC 10's Vai Sikahema to discuss how the tour started in South Africa, and is now making its way across America to spread its message.  Please click here to see the broadcast on WCAU-TV in Philadelphia.
In these challenging times of divisive rhetoric and racial strife, The Peace Train uses music, dance, art, workshops and community events to bring together people from diverse backgrounds. 
Watch a short description of the Cuba project:
Watch the 2018 Border Crossing

Watch the PBS story about the 2016 tour